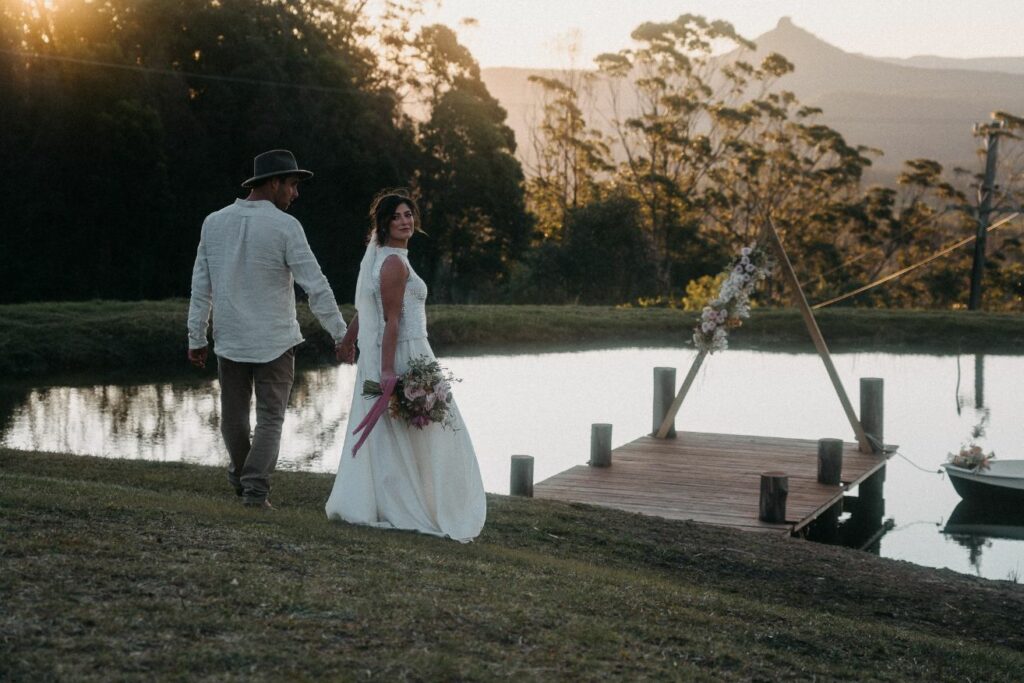 How do we work around the couples on the wedding day?
We guarantee you that we will be there for you whatever the weather is or how the day will go but it is so important to us that you also feel comfortable around us as much as possible. So we do our best to capture all of the best times but not to interfere with your moments. We do this by trying to step back and use long-range lenses so we can keep our social distance from you.
We love to capture the priceless moments and little things that might be unnoticeable but are sentimental for the couple. This could be the beautiful table centerpieces handmade by the mother of the bride, an heirloom necklace given to the bride a surprise gift from her mother, or an intimate exchange of words between the bride and her dad just moments before walking down the aisle, the couple's little kids running around and giving their parents hugs and kisses, groomsmen talking about the craziest things they've done with the groom, a message video clip from the couple's families who could not make it on the wedding day and many more. These moments are our golden shots!                                                                                 
What does video coverage mean?
The video coverage is the number of hours of service from start to finish. This includes travel time between locations and breaks. The number of hours depend on your chosen package and the coverage start time is discussed and decided between the clients and us.
What is a highlight video?
A highlight video is a film comprising all of the best parts of the wedding day handpicked by us. The sequence of these events are presented in a non-chronological order or in ways where the events of the video do not follow the direct sequence of events. This will be incorporated with music, some parts of the vows, speeches, and/or other form of sound that can be captured on the day (eg. couple singing, musical performance of a family member, someone reading a poem for the couple etc.). Other music that we use for the films are chosen from the Artlist.ou website wherein we have the rights for the licensing. The duration of the video depends on the chosen package. The creation of the highlight video is done at the sole artistic discretion or according to our creative imagination and style. 
There is no exact same wedding therefore each wedding film that we create is made uniquely and personal.            
What does a full ceremony and full speeches video look like?
A continuous video recording will be done for the wedding ceremony and speeches (done separately). We use multiple cameras for this, a combination of close-up and wide angle shots to capture different angles and people's reactions. Unlike the highlight video, this will then be edited in sequence from start to finish.  
YES we do!
They are subject to availability, weather conditions, and we have to comply according to Australian civil aviation regulations.
That means we can only fly if we have permission and is safe to do so.
Do you provide clients all of the raw footage?
The short answer is NO.
Why not?
Raw files are like unfinished artwork. Think of it as a sketch before it becomes a painting or a wood frame before it becomes a house. We don't want to provide clients with an incomplete product.
Raw files are un-edited, usually dull-coloured, varying from short and long clips straight out of a camera. Some clips may be blurry, shaky, dark, or may not look great. Because we shoot with editing in mind, we shoot in short clips throughout the entire day and many clips are as short as 5-10 seconds except for ceremonies and speeches. These are hundreds or thousands of high quality video clips from multiple cameras.
Instead of having the raw footage, we recommend our add-ons, which are the full video of ceremony and/or full video of speeches (If not included in your package), in that way you can see more of the key moments in your wedding.            
How long before we can view our wedding film?
Our aim is to create the best wedding film we can just for you. We don't want to rush this. Completion of edited videos such as the highlight video, as well as full video of speeches and full video of ceremony (If included in your package) will take approximately 112 days from wedding date, weekends and holidays not included.
As soon as it is ready, we will give you the option to see it first online or you can wait until you receive the USB that we will mail to you. This can take at least a week from the time we send it to you. 
WHAT OTHER SERVICES DO YOU OFFER?
We provide Commercial and Personal videography and photography services. We mainly create films for weddings, real estate, businesses, company events and general content creation.
We also capture personal events such as birthdays, engagements, family portraits etc., which are subject to our availability.